Rockford Manufacturing Group
Over A Century of Wire Processing Solutions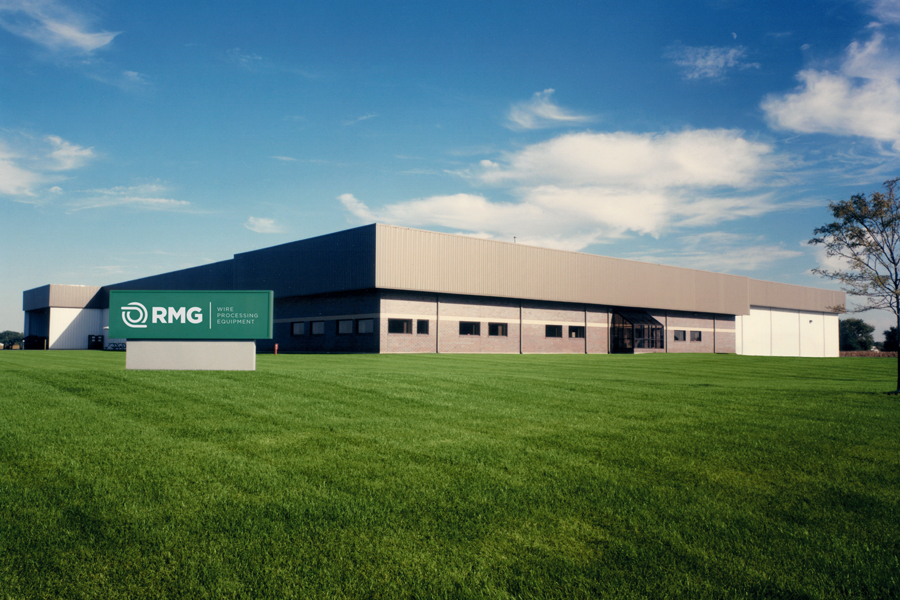 RMG (formerly Rockford Manufacturing Group) designs and builds equipment to uncoil, draw, straighten, and cut coiled wire to a length. Our solutions can be found in countless manufacturing processes that begin with coiled wire – where we provide a critical step in production to ensure wire is ready to be manufactured into a usable component or finished product.
RMG has a long history of providing equipment to the automotive, aerospace, concrete/construction, industrial, wire-forming, and consumer product industries, where customers benefit greatly from the experience of our sales and engineering professionals. Our teams continually work with a sense of urgency to provide comprehensive and unmatched support -from equipment design, to delivery, to genuine replacement parts and service.
At the end of the day, it is companies that demand durable, high-performance wire processing equipment who rely on RMG to deliver on that promise worldwide –not only with quality products and outstanding customer support, but with competitive prices and lead times.
1911
The Lewis Machine Company was started in 1911 in Cleveland, Ohio and quickly became the North American leader in Straighten & Cut machines by offering innovative and robust mechanical equipment.
1962
In-line wire drawing using a capstan was invented by Fastener Engineers, a company that Rockford Manufacturing Group later acquired. Prior to 1962, in-line wire drawing before a header was done with a slow and unreliable linear drawer, or the wire was drawn offline using a bull block. This meant that many wire sizes had to be stocked. Expensive header machines are much more efficient using capstan in-line wire drawing system.
1976
Rockford Manufacturing Group was established in 1976 to offer an improved and patented in-line wire drawer. Like Fastener Engineers, RMG used a capstan approach, but added a patented wire relaxer system that greatly improved the performance of the machine. Over the years, RMG surpassed Fastener Engineers with high-performance, extremely reliable machines.
1993
To expand into the wire products industry, Rockford Manufacturing Group acquired the G.C. Patterson line of straighten & cut machines. Rockford Manufacturing Group soon began to supply the diverse wire products industry with systems that were easier to integrate, more user-friendly, and easier to setup, and overall more cost-effective.
2003
After years of being direct competitors, Rockford Manufacturing Group acquired the assets, property, and designs of Lewis Machine. The Lewis Machine straighten & cut machines were complementary to Rockford Manufacturing Group's line of machines, formerly G.C. Patterson.
2019
Rockford Manufacturing Group launches new version of 'flying shear' straighten and cut machine, these machines eliminate stoppage during the cut cycle while producing a cleaner cut.
2023
Rockford Manufacturing Group introduces the Quick Change wire relaxer feature on all wire drawers. The new feature reduces changeover time by 80% and increases operator safety. The company also launches Industry 4.0 data monitoring features to straighten & cut and wire drawing machines – allowing  customers to log and track machine performance (both onsite and remotely) to improve production.
Rockford Manufacturing Group unveils its rebranding initiative. Along with a new website and catalog, Rockford Manufacturing Group will now be known as RMG moving forward.